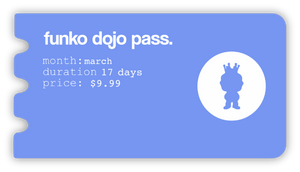 Purchase of the Funko Dojo March Pass will permit access to all Funko Dojo Membership benefits for the remainder of the month of March (03/14/2019-04/01/2019). These Benefits will be accessible through our Slack Group. For the sake of limiting complications, this payment will not be automatically recurring. Due to the time at which we are accepting new applicants, we have reduced the price of March's membership to half of its original cost. All purchasers of the Funko Dojo Pass for March will be Guaranteed the option to purchase a pass for the month of April.
Memberships for new customers will be delivered by the evening of March 14th, and last until the 1st of April. Your Funko Dojo Invite will be sent to the email provided during checkout.
All Documents provided by Funko Dojo are distributed via Google Docs. For the sake of security, it is required that all members specify an email associated to a valid Google Account with which we can share these documents. Please specify this email in the provided field after adding the Funko Dojo Pass to your cart.