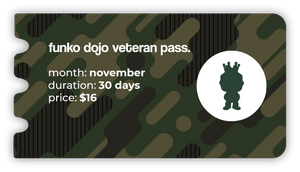 Be sure to verify your status with GOVX, before purchasing!
All non-verified orders will not receive a membership.

Purchase of this Funko Dojo Veteran Pass will allow Funko Dojo to verify veterans status of individuals and permit access to all Funko Dojo Membership benefits. These Benefits will be accessible through our Slack Group. For the sake of limiting complications, this payment will be $1 to verify status only, and additional payment will be collected upon our follow-up email. All purchasers of the Funko Dojo Veteran Pass will be guaranteed the option to purchase a veteran membership-proven successful verification.

Please note: We will still process a standard application, to verify and accept new members.
Memberships for new members will be delivered by the evening of November 15th. Your Funko Dojo Invite will be sent to the email provided during checkout.
All Documents provided by Funko Dojo are distributed via Google Docs. For the sake of security, it is required that all members specify an email associated to a valid Google Account with which we can share these documents. Please specify this email in the provided field after adding the Funko Dojo Pass to your cart.